Ride, relax, and refresh with a special discount on the Taiwan High-Speed Rail!
We're thrilled to offer you an exclusive up to 30% discount on your travel with Taiwan High-Speed Rail.
Booking Period
2023/08/31 – 2023/12/28
Staying Period
2023/10/01 – 2023/12/28
Offers
Get up to 30% off Taiwan High Speed Rail tickets for October-December 2023 stays when you book on our website.
Get 20% off during peak holiday seasons, including the Mid-Autumn Festival 2023/10/01 – 2023/10/02, National Day 2023/10/06 – 2023/10/11, and New Year Holiday 2023/12/29 – 202312/31.
Attention TGo Members!
Here's your exclusive chance to earn additional points and win exciting prizes!
If you complete a high-speed rail ride between 2023/10/01 and 2023/12/31, you'll receive 100 additional TGo member points per ticket! But wait, there's more! TGo members who book high-speed rail and hotel together and complete the ride within the specified period can participate in the high-speed rail joint ticket lucky draw and win big! Find more HERE
This is the perfect opportunity to make the most of your TGo membership and get rewarded for traveling with us! Don't miss out on this exciting offer and visit the Taiwan High-Speed Rail activity website right away to learn more!
Terms and conditions
This offer does not apply to 'concession ticket' holders, including children, the elderly, and the disabled.
This offer contains hotel packages and THSR tickets, you are required to pay the booking deposit and THSR tickets in full (after discount) when you book your stay.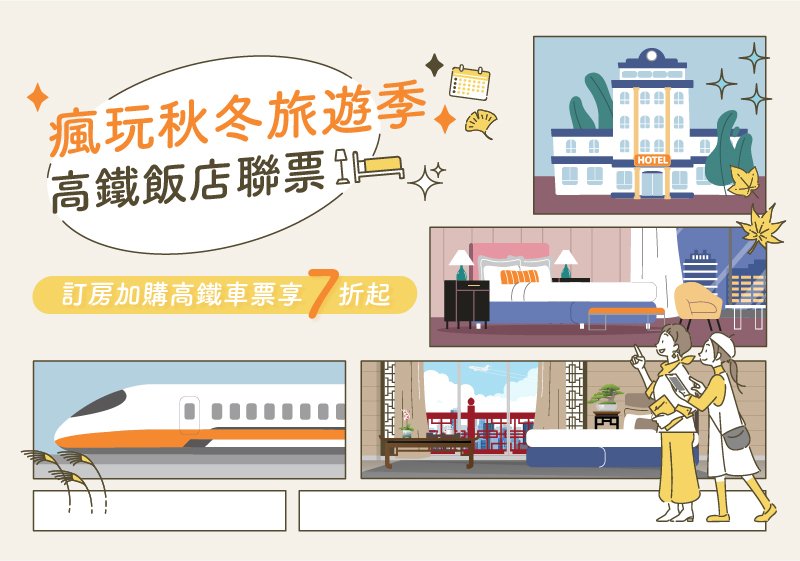 The date, time, and train number on the THSR ticket are processed by the booking system, we cannot guarantee passengers in the same order will have adjacent seats.
The seats are allocated by the THSR booking system and the hotel is not able to guarantee any preferred seats will be reserved.
Any issue relating to THSR tickets will be handled on our booking system if purchased from us. This includes purchasing tickets, checking in, changing travel times (subject to uncollected tickets), and room cancellation (both hotel room & train tickets need to be canceled)
ILLUME TAIPEI and THSR reserve the right to amend or terminate the
We offer single and return tickets, with a choice of Standard and Business seats. THSR Nangang/Taipei/Banqiao Station(高鐵 南港站/台北站/板橋站) must be either your inbound or outbound station.
The additional tickets are available for either one day before check-in or one day after check-out.
Additional tickets are available for extra-staying guests. If the room is booked for two guests, a maximum of two return tickets can be purchased – a total of four tickets (up to a maximum of 10 return tickets).
You will be able to reserve seats for return tickets from 29 days up to 60 minutes before departure, by THSR policy (early booking may be available for certain holiday periods, please visit THSR for more information). For example, for trains departing on 2023/05/01, you will be able to reserve your seats from 00:00 on 2023/04/04 (For actual reservation times, please visit THSR to be sure). The actual date from which you can reserve seats depends on each participating hotel. For example, for seat reservations one day before check-in or one day after check-out, with check-in on 2023/05/01 and check-out the next day, you would be able to reserve your seats from 2023/04/30 to 2023/0503. If a booking is made more than 29 days in advance of your stay, you can still enjoy a 20% discount on THSR tickets, but you will need to choose and reserve your seats when they become available on the THSR booking system).
For passengers who haven't reserved a seat and haven't collected their ticket, or who have reserved a seat but haven't collected their ticket, please cancel your booking at least 30 minutes before train departure using our online system. You will need your booking code and password.
For passengers whose seat is reserved and have collected their ticket, please go to a THSR counter in person to receive a refund at least 30 minutes before train departure. There is an administration charge of NT$20 for every ticket. If tickets were not collected at a station, please return them to the point of collection; an NT$20 administration charge will also be applied. 30 minutes after you have successfully canceled your ticket, log into our booking system with the order code and password to manage your cancellation. The hotel's liability for refund is subject to the room deposit only, by the Standardised Contract Template for Individual Domestic Tours.
THSR tickets must be canceled along with room cancellation.